Water sterilization with UV TODE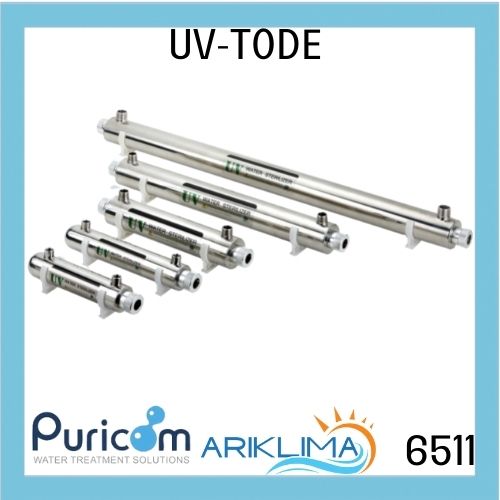 Ultraviolet Lamp set TODE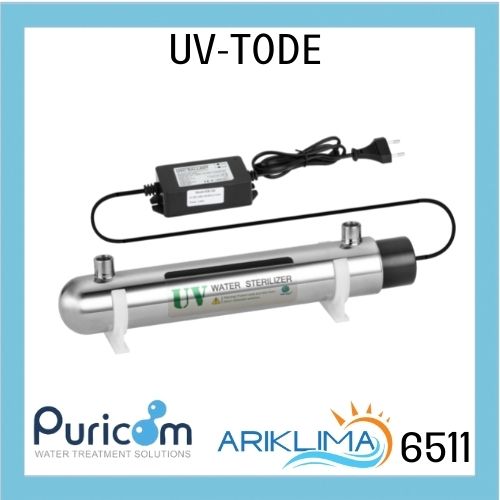 Disinfection of water UV systems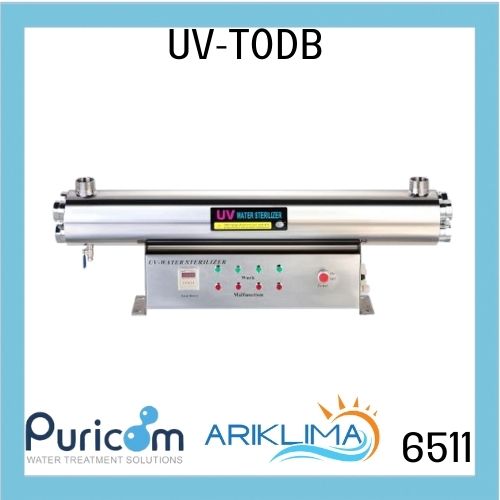 Ultraviolet Lamp with control TODS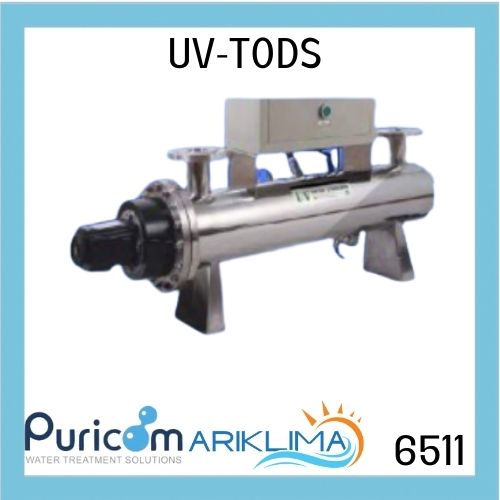 Water sterilization is vital for human health.
The water contamination
It can be divided in two groups. The Microbiological contamination and the Chemical contamination.
Here we will talk about the water disinfection.It is the presence of bacteria and microorganism in the water.
The bacteriological contamination can be solved with water disinfection. One example is the use of chlorine. The quantity of wasted chlorine that tap water must have be between 0,2 to 1 ppm. Another way is the use of UV systems.
Microorganism's effects:
They can cause infectious diseases. An example is typhus, then cholera, moreover malaria. Even yellow fever and in best case stomach symptoms.
In addition to above there is also Legionnaire's disease. And this one is even more difficult to fight.
Ultraviolet Lamps (UV)
Water treatment with ultraviolet lamps systems, helps for safe water. They provide a reliable and clean method of making sure that your water is free of bacteria.
They are killing bacteria and harmful micro-organisms that are found in water. Therefore UV water treatment is a quick, even more safe system. In addition it is a low-cost technique of disinfecting water.
Moreover,UV systems are free of taste and odour. They even do not include the use of any chemicals, like chlorine. In addition, they require minimum maintenance. On the other hand, they ensure greater water quality.
Chlorination with dosing pumps
Another way of water disinfection is chlorination. Chlorine dosing system is based on advanced technology. It is used to ensure effective dosing of chlorine.
A dosing pump firstly draws a measured amount of liquid into its chamber. Then it injects the chemical into a tank or pipe, that contains the fluid that is being dosed. The system is powered by an electric motor. Sometimes can be an air actuator. It has a controller that turns the pump on and off , therfore manages the flow rate.
Conclusion:
With UV lamps we have Safe and fast disinfection. They kill bacteria and other harmful microorganisms in the water. Thus, UV water treatment is maybe the fastest low-cost water disinfection technique.